This one is on my fall installation list: Hydrangea paniculata 'Vanilla Strawberry.' It looks as delicious as it sounds. The nice thing about paniculata Hydrangeas, is that they take a fair bit of southern sun and heat, with adequate irrigation. Vigorous flower production, big blossoms, and it's still blooming this late in the season.
Hydrangeas turning the corner into Autumn. 
Hydrangea macrophylla 'Peppermint' is another re-blooming Hydrangea for the shade garden. Phosphorus and lime must be added to the soil several times a year to encourage pink blooms, since our Georgia clay is so acidic. Otherwise, the flowers trend towards blue. 
In just another week or two, one of my favorite flowers will be in full bloom. These are pictures from my clients' gardens last September - and they are not a "grocery store garden mum." These are a perennial Chrysanthemum with billowing clouds of brilliant, shell-pink or coral-flame, daisy-like flowers that glow in the autumn light.
Chrysanthemum 'Sheffield' and 'Saxapahaw.' 
Lovely photographic effects (sepia-toned gelatin silver) on this Collarette Dahlia by Ron Van Dongen (2000) via bella102.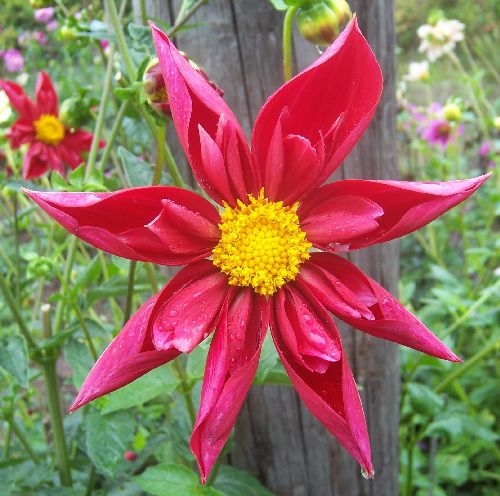 Collarette Dahlia 'Mars' as it appears in the garden. Dahlias are heavy summer feeders (every two weeks), but don't use a high-nitrogen fertilizer, or stems will become leggy and weak. Dahlias will thrive if bonemeal is added to planting beds.
Botany Lesson of the Day: Cosmos bipinnatus. Often included in wildflower seed mixes, a summer annual. (Look familiar? DOT roadside beautification programs use Cosmos, grasses, and native wildflowers for erosion control and vegetation management along the nations federal highways.)
Blossoms appear on 26-40" stems bearing fine fern-like leaves, a good "cutting-garden" flower. Cosmos withstand heat, even drought, with a bloom cycle mid-summer to early fall. Native to Mexico and the American Southwest, but also grows well in the Southeast. Attracts butterflies and hummingbirds. 
(via johnmyersart)